Has the world of events changed?
Now that events are firmly back to live, it would be tempting to leave the world of virtual and hybrid behind. However, we've seen a growing appetite from attendees and organisers to combine some of the more useful elements of the virtual experience into the live environment. The pandemic accelerated the development of virtual tech, and increased people's expectations of what an event can deliver.
Personalisation has become the watchword and providing attendees with the means to curate their event experience in exciting and compelling ways.
Contactless tech has developed to allow you to create accessible content and experiences without the need to touch anything. While live events are back in the calendar, there remains an element of caution, so this allows you to share content in creative and immersive ways while ensuring delegates feel comfortable.
While virtual events allowed producers to create spectacular augmented reality experiences, there are some clever solutions to allow producers to bring these to a live show.
How can you put these into practice?
Our industry-leading AV suppliers Anna Valley held their annual Inspiration Showcase here last month and brought a stunning array of tech solutions with them. Evolved from their emphasis on virtual events over the pandemic period, the solutions on display were more than tech for tech's sake. Rather, they demonstrated the ways in which you can bring personalised, contactless, immersive engagement to live events in a seamless and captivating way.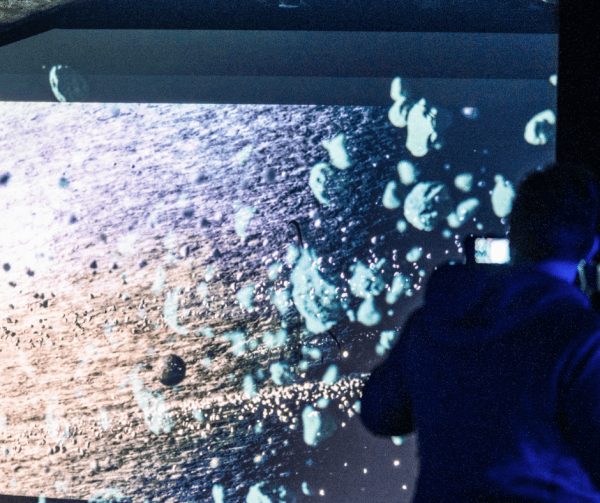 RFID cards concealed within a token given to each group helped deliver a personalised visitor experience. Upon tapping in they were greeted by name and their organisation. This system can easily be used to help attendees register interests before the event and to suggest the content most relevant to them.
Language, job title, content preferences and event accessibility and dietary requirements can all be attached to the individual, meaning that they can enjoy a seamless and personalised experience.
An extended reality stage allowed Anna Valley to expand the sense of the live space and to present content with sophisticated elements such as gesture control and position tracking. Meanwhile specially developed holographic gauze allows you to create breath-taking augmented reality content without the use of headsets or cumbersome devices.
Contactless tech was demonstrated through a large-scale Matterport venue tour, navigated through an under-foot pressure pad, while an interactive photo booth allowed you to swipe the air for different backgrounds. This is ideal for clients who want to provide solutions to minimise contact time while still delivering a responsive and immersive experience.

The producers' venue
When we launched in 2012, our aim was to be the producers' venue of choice. We wanted to provide the spaces, the infrastructure and the suppliers to catalyse the imaginations of the world's leading event professionals. As we move into a new age of events, we're ready to work with you on ever more extraordinary experiences.
We love working on innovative solutions with our clients and would love to chat more about your ideas and the ways we can help them turn into reality! Get in touch with our team and getting planning.
International Women's Day
International Women's Day gives us the opportunity to celebrate the incredible female members of our dynamic and ambitious team, and also provides a chance to reflect on the ways in...